27.08.2023
Night 3 – Jes Psaila Hinge Project & Sean Borg (Opening Act)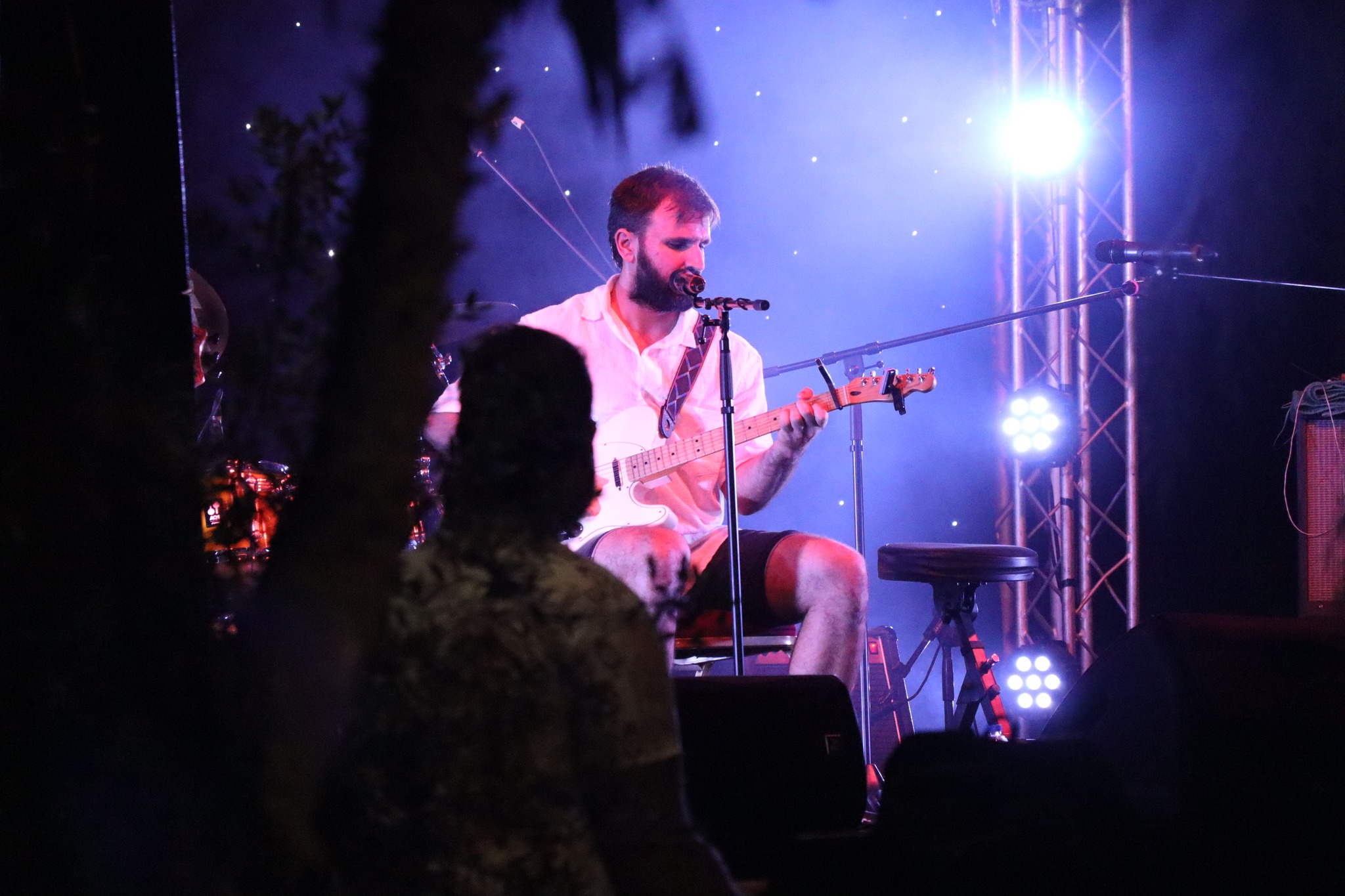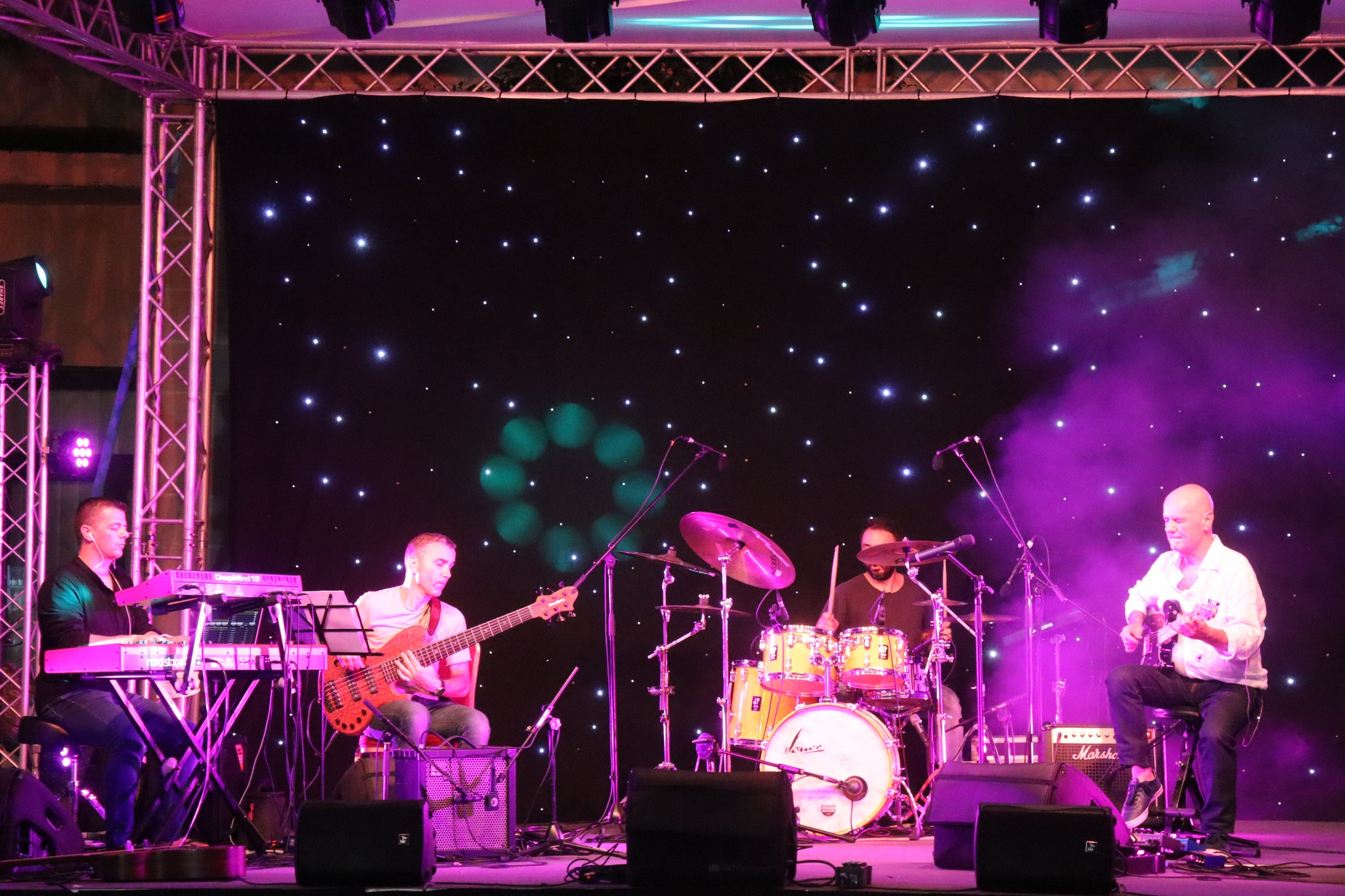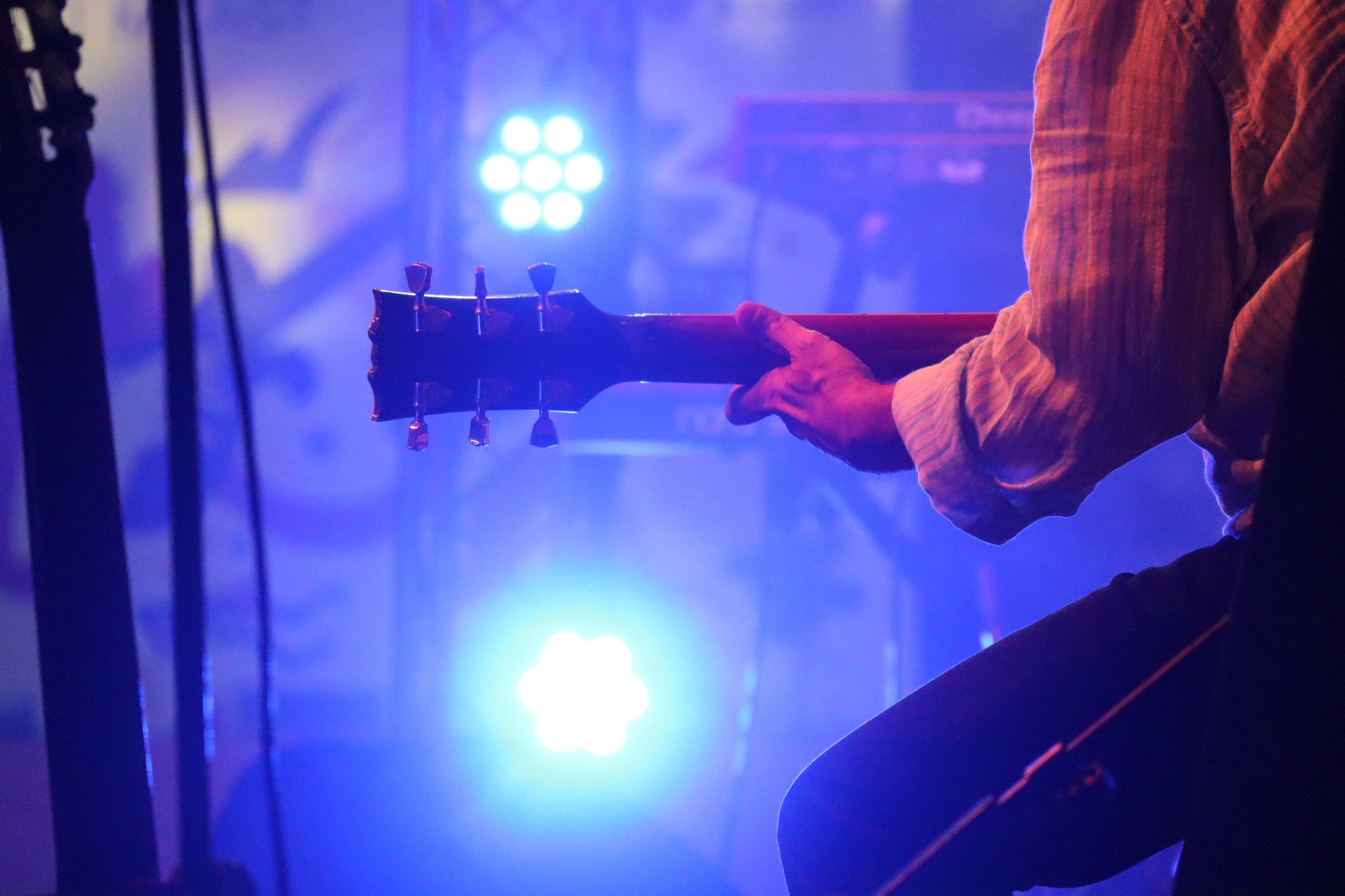 ——————————————————
26.08.2023
Night 2 – Etikett AI by Teatru Malta and Moveo Dance Company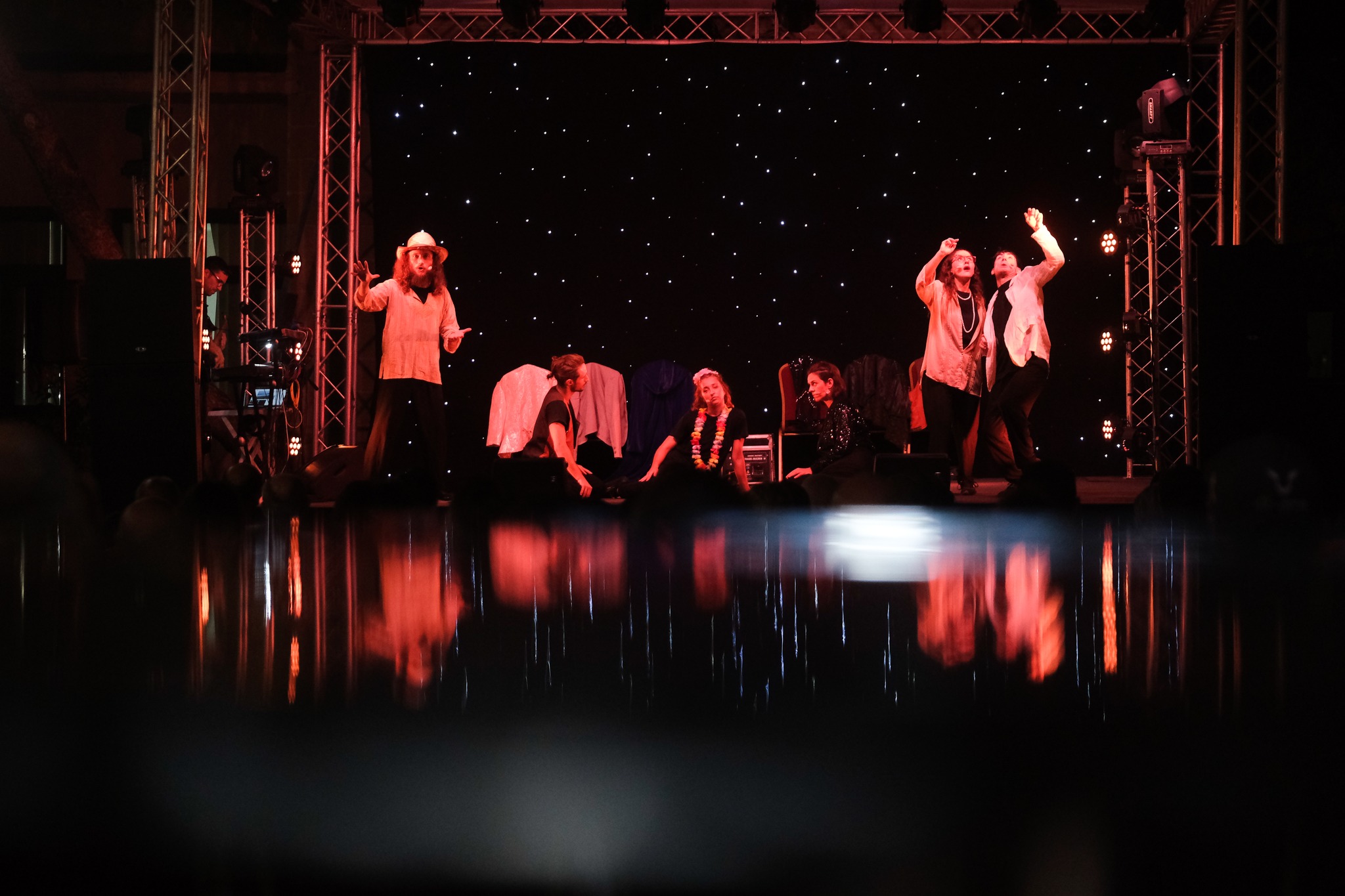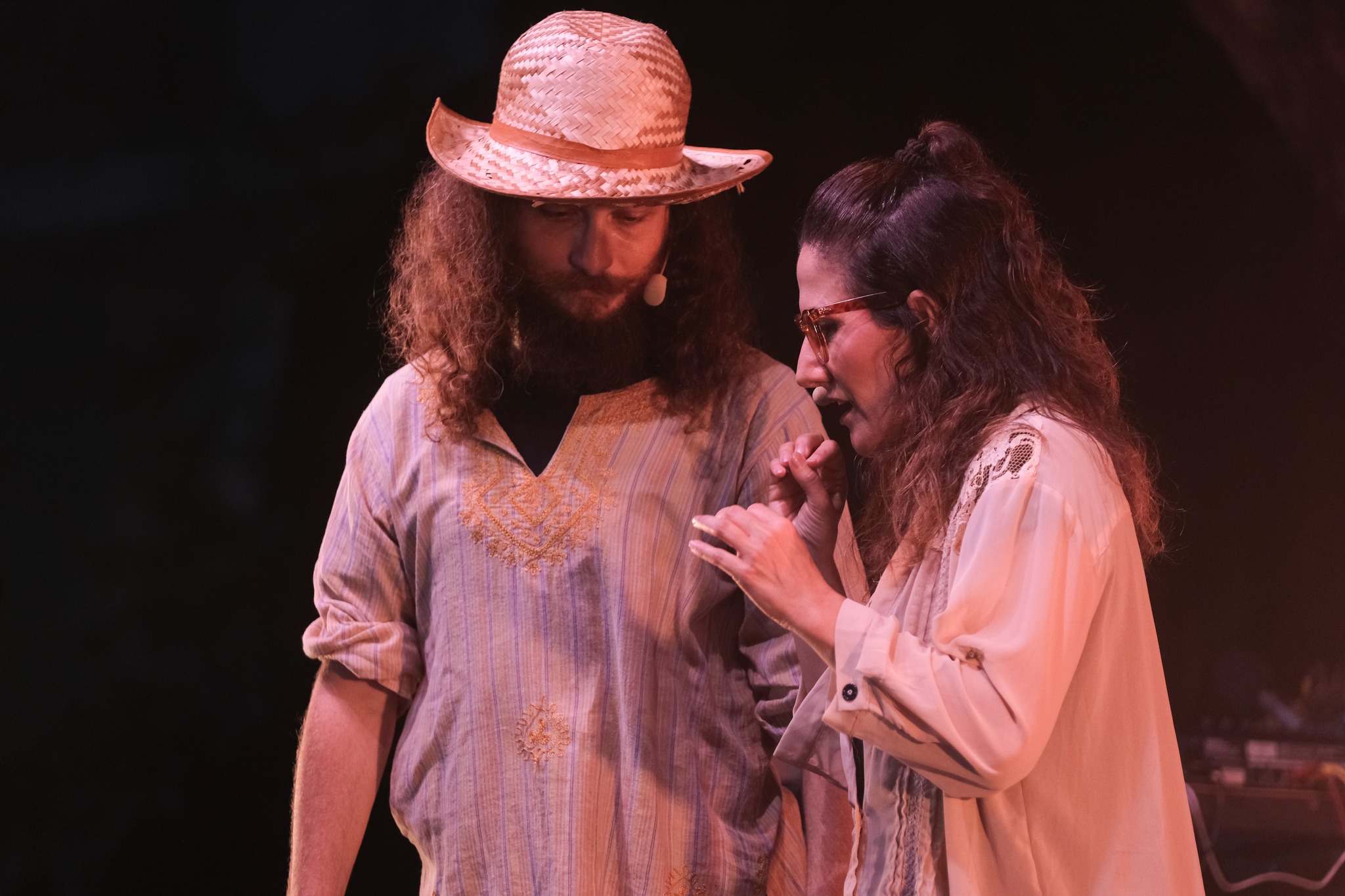 ——————————————————
25.08.2023
Night 1 – Zizza u Maria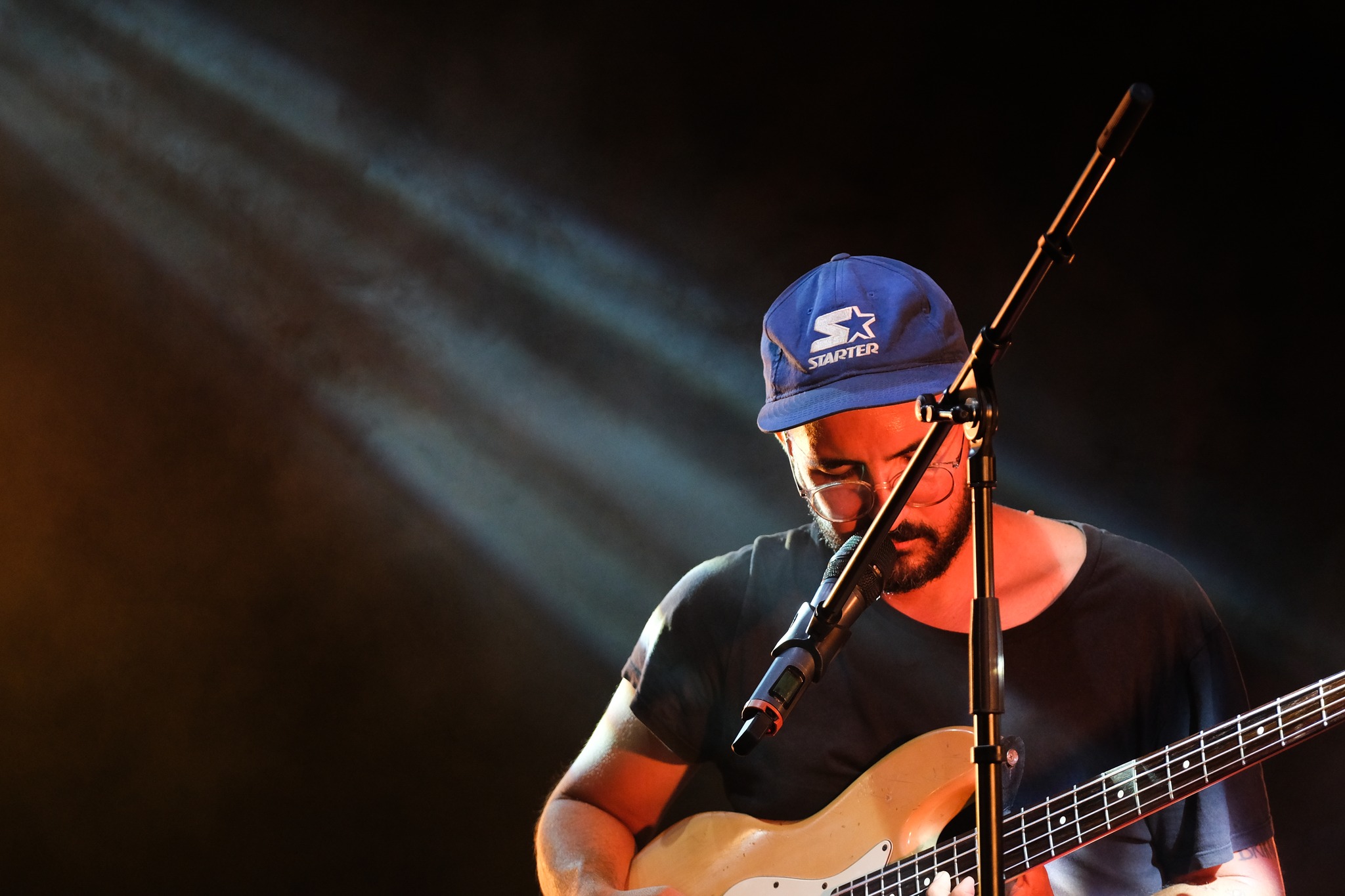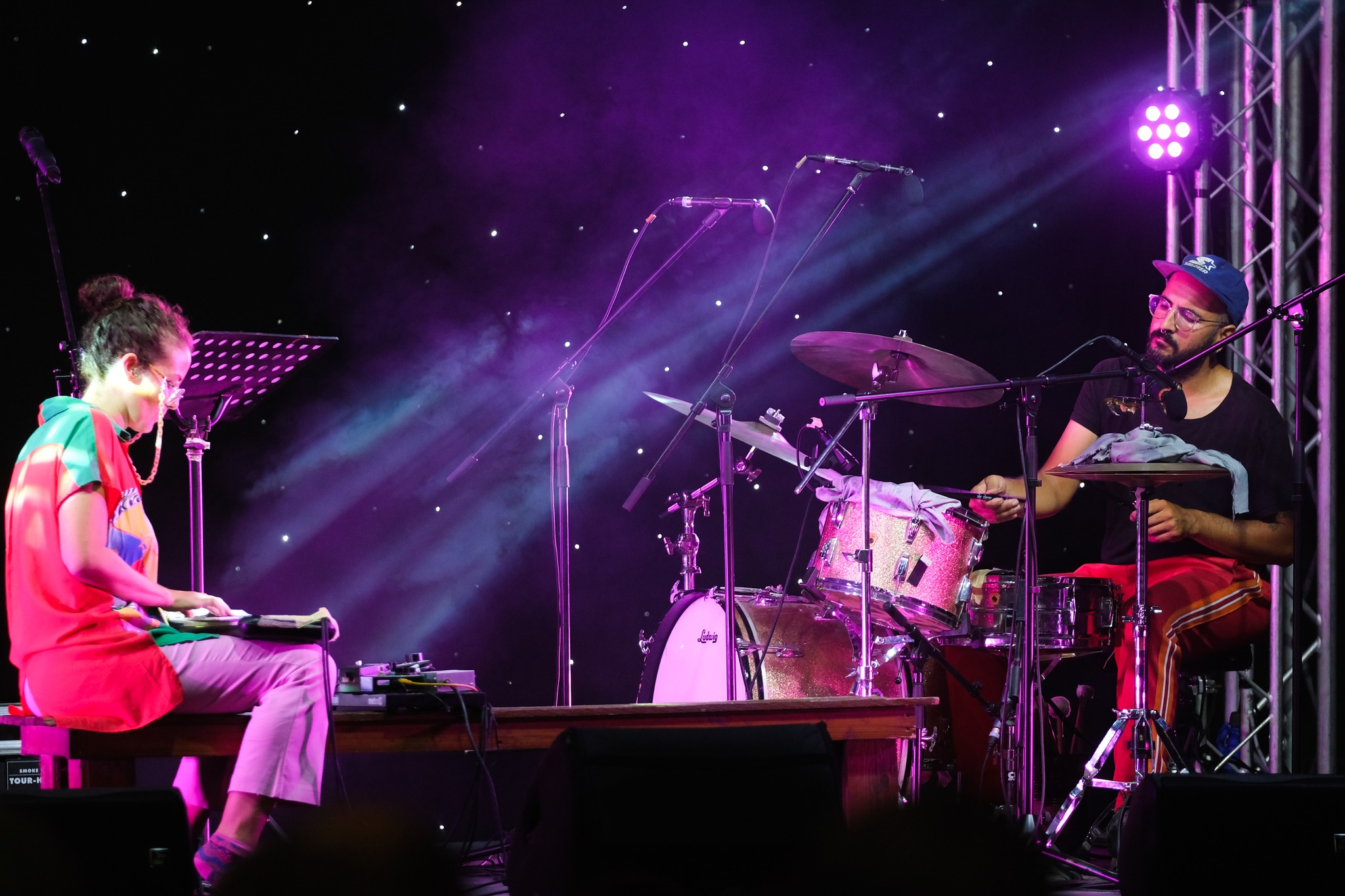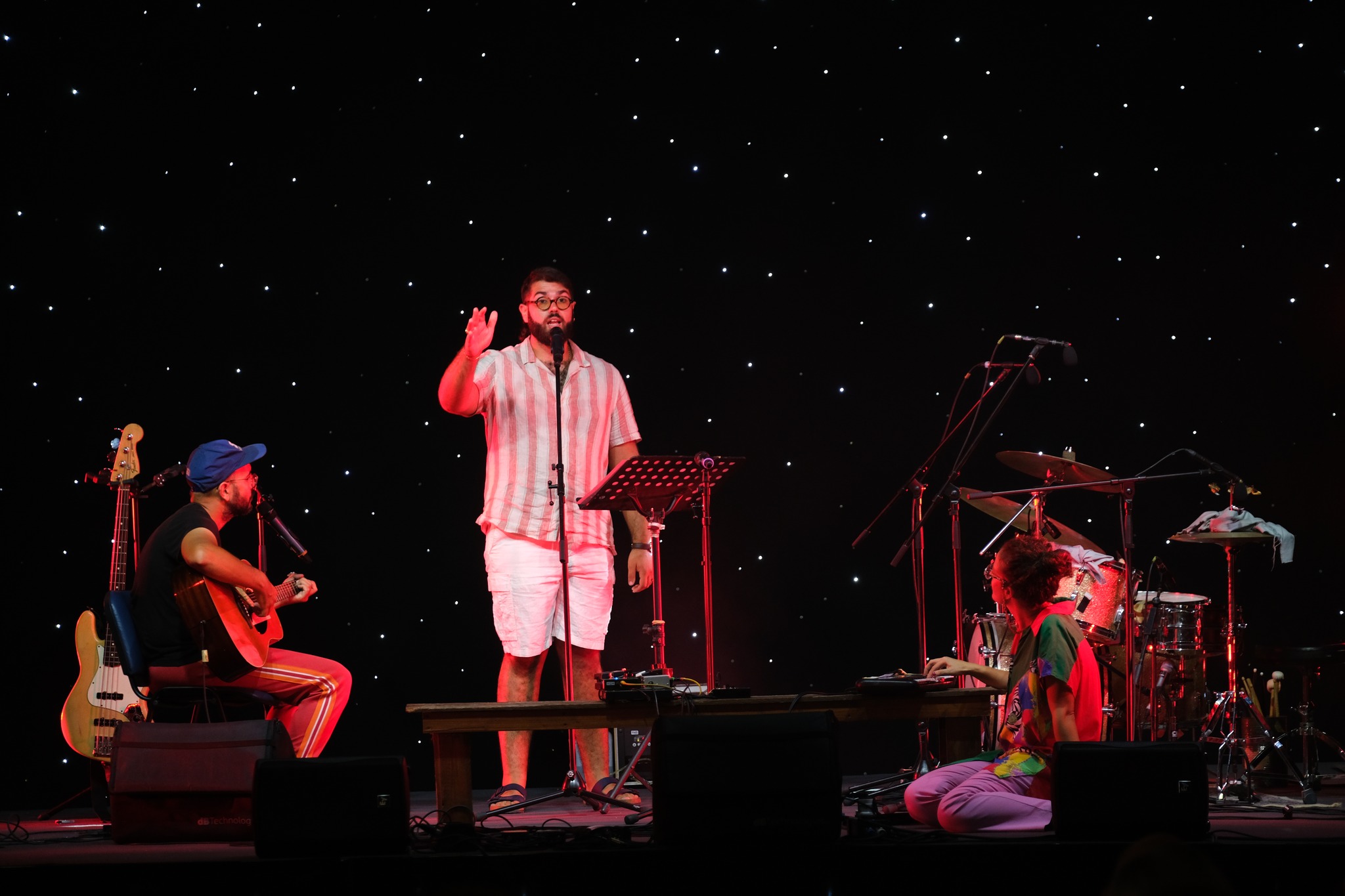 ——————————————————
24.08.2023
Media Coverage – One.com.mt – click
here
——————————————————
24.08.2023
Media Coverage – TimesofMalta – click
here
——————————————————
23.08.2023
Media Coverage – Net News – click
here
21.08.2023
Media Coverage – The Malta Independent – click
here
——————————————————
20.08.2023
Media Coverage – MaltaToday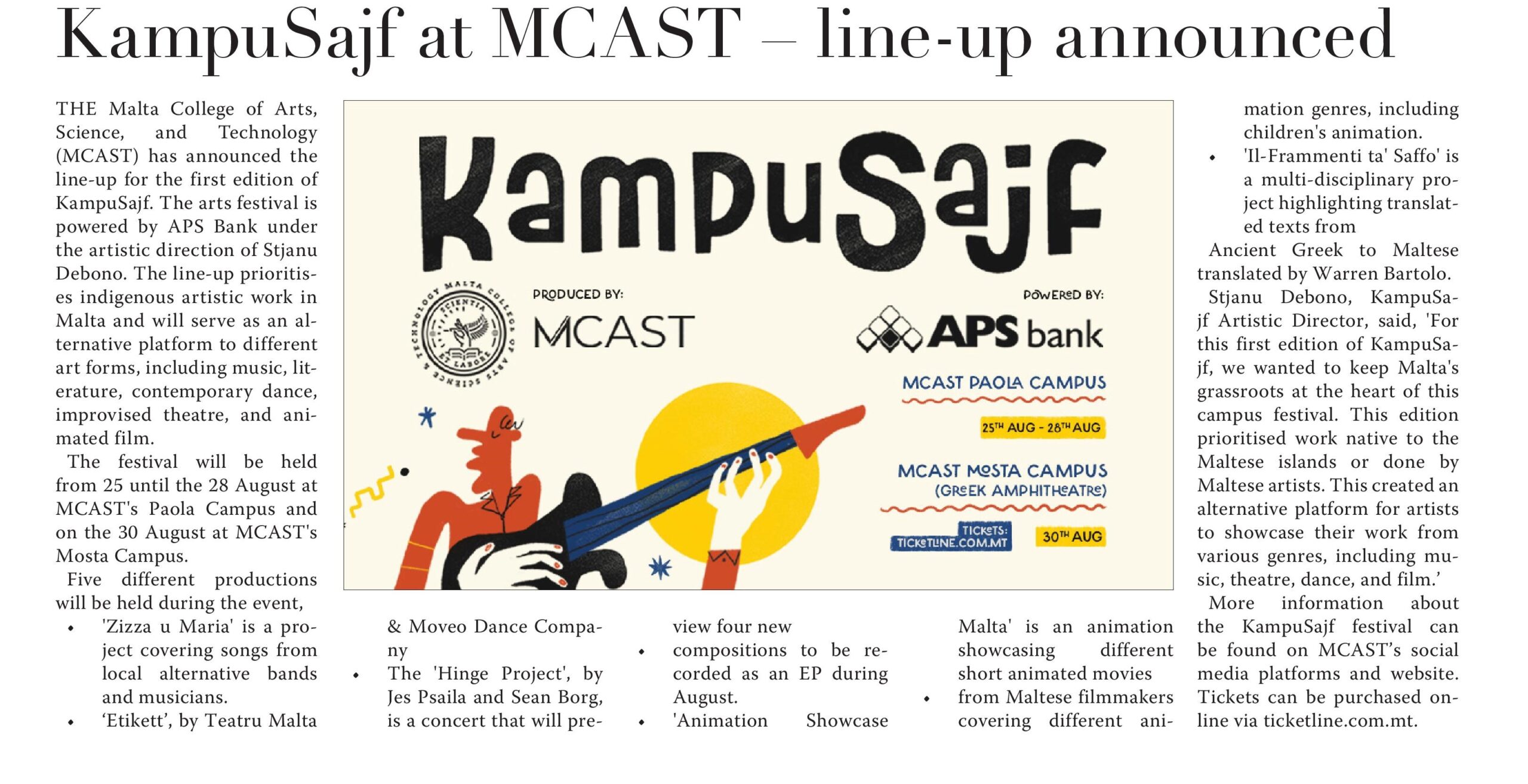 ——————————————————
20.08.2023
Times of Malta – Interview with artistic director, Stjanu Debono. click
here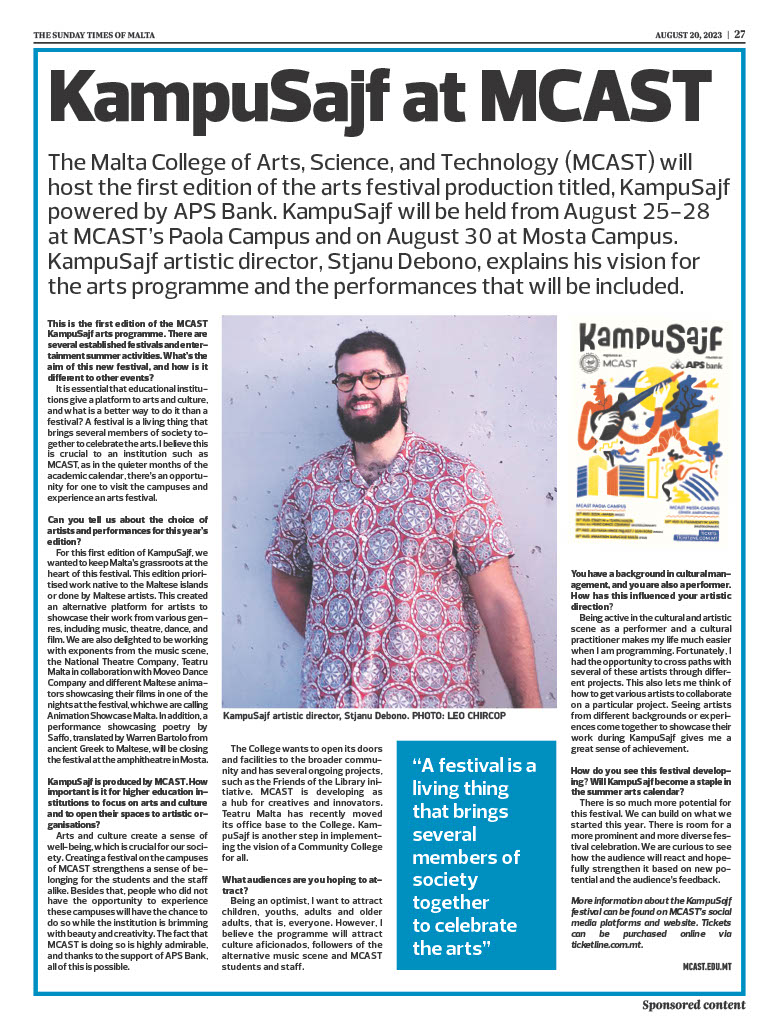 ——————————————————
18.08.2023
30 August event details announced
Il-Frammenti ta' Saffo
A multi-disciplinary project highlighting translated texts from Ancient Greek to Maltese translated by Warren Bartolo. Saffo's texts were found in fragments, and movers Zoe Camilleri and Florinda Camilleri will be breathing through these fragments by dancing, with readings by spoken-word artist Maria Theuma and music by Yasmin Kuymizakis who will be all collaborating to create this multilayered performance. This performance is supported by Luke Azzopardi.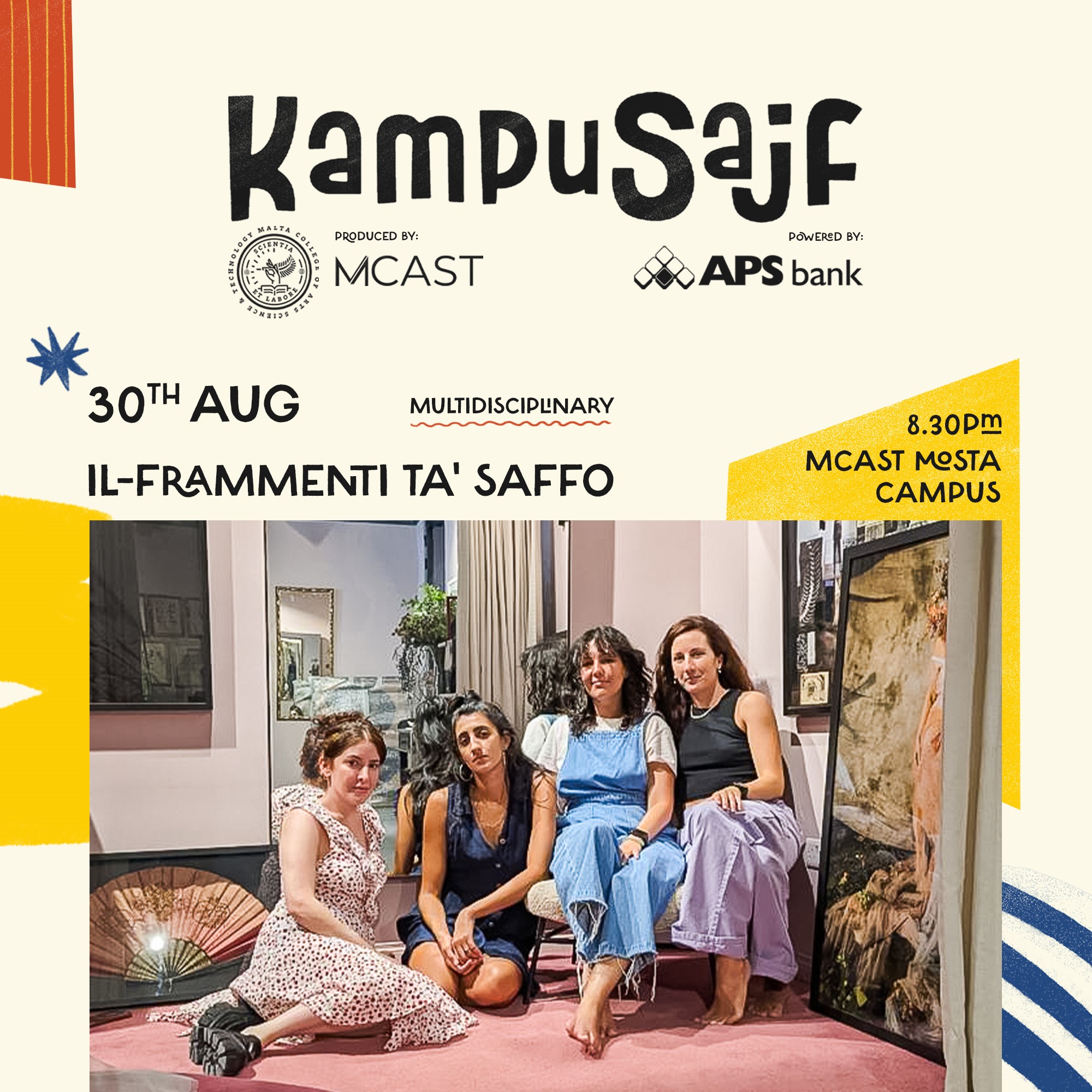 ——————————————————
17.08.2023
28 August event details announced
An animation showcasing different short animated movies from Maltese filmmakers Inez Kristina, Fabrizio Ellul, Danny Lesco, and Neil Zammit from Toontuloon covering different genres of animation, including children's animation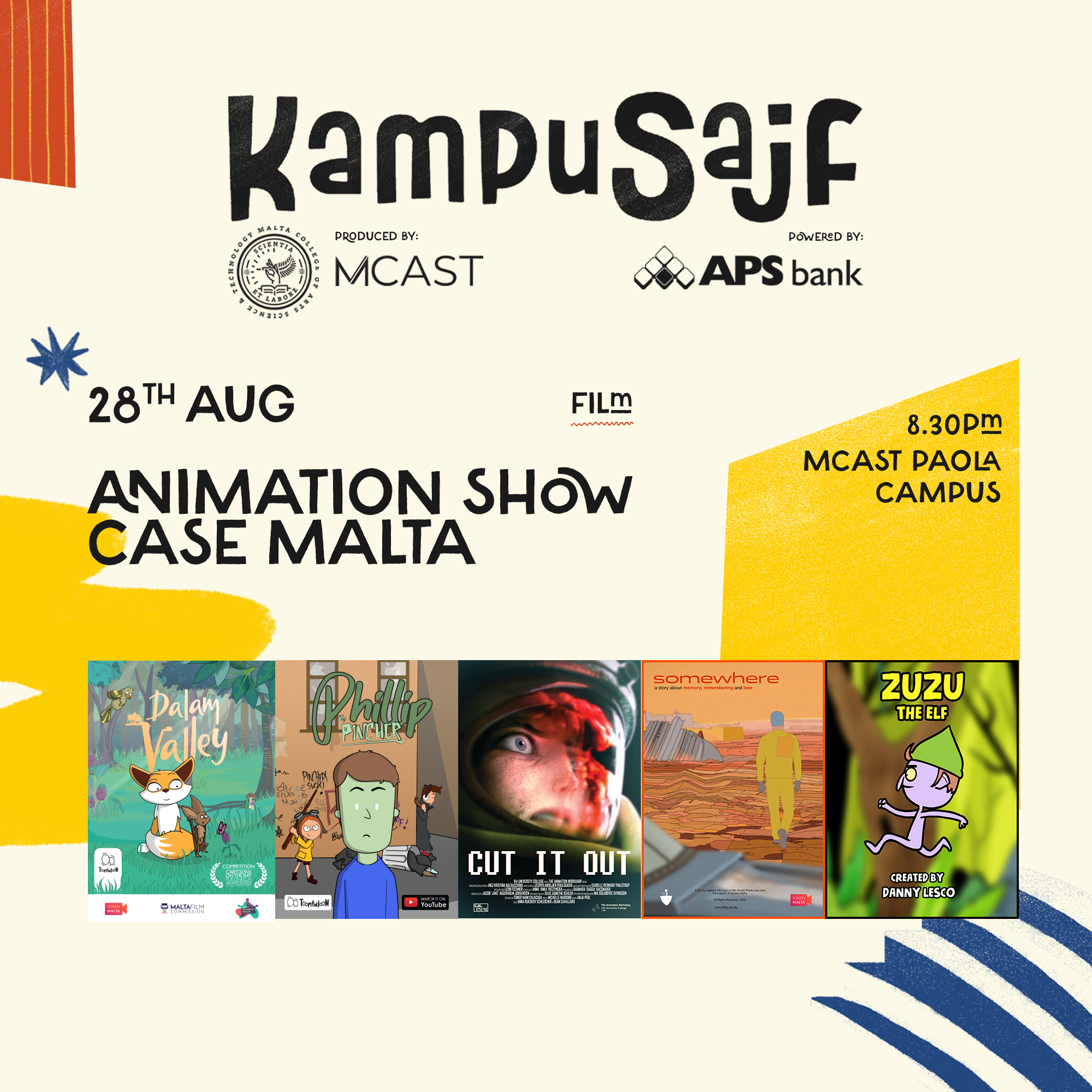 ——————————————————
14.08.2023
Media Coverage – Newsbook
——————————————————
11.08.2023
27 August line-up announced
Jes Psaila Hinge Project / Sean Borg Opening Act – Following live performances of our 2021 'Hinge' album at the Malta Jazz Festival and other venues. The concert will preview four new compositions which are to be recorded as an EP during the month of August. This concert will have singer-songwriter Sean Borg as an opening act.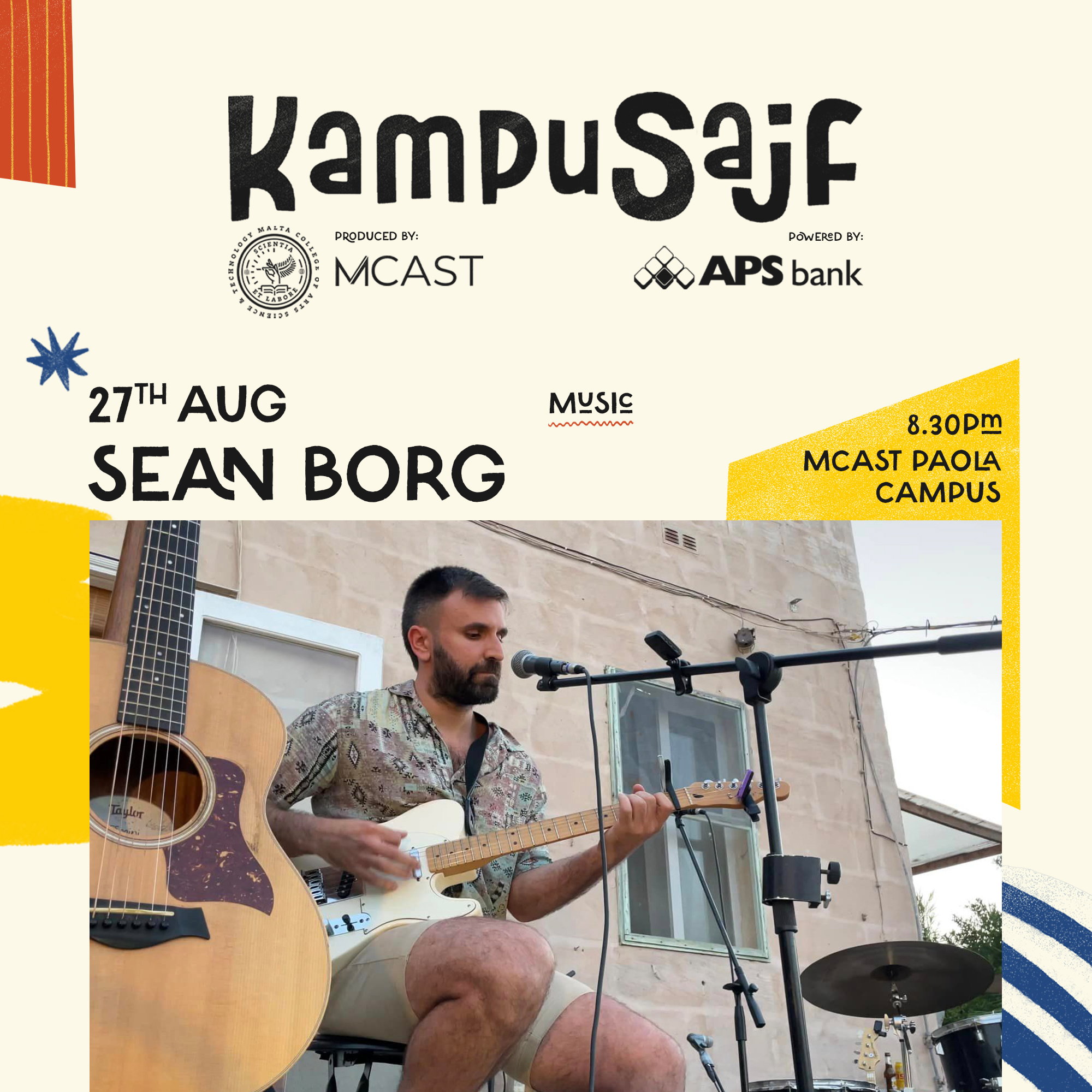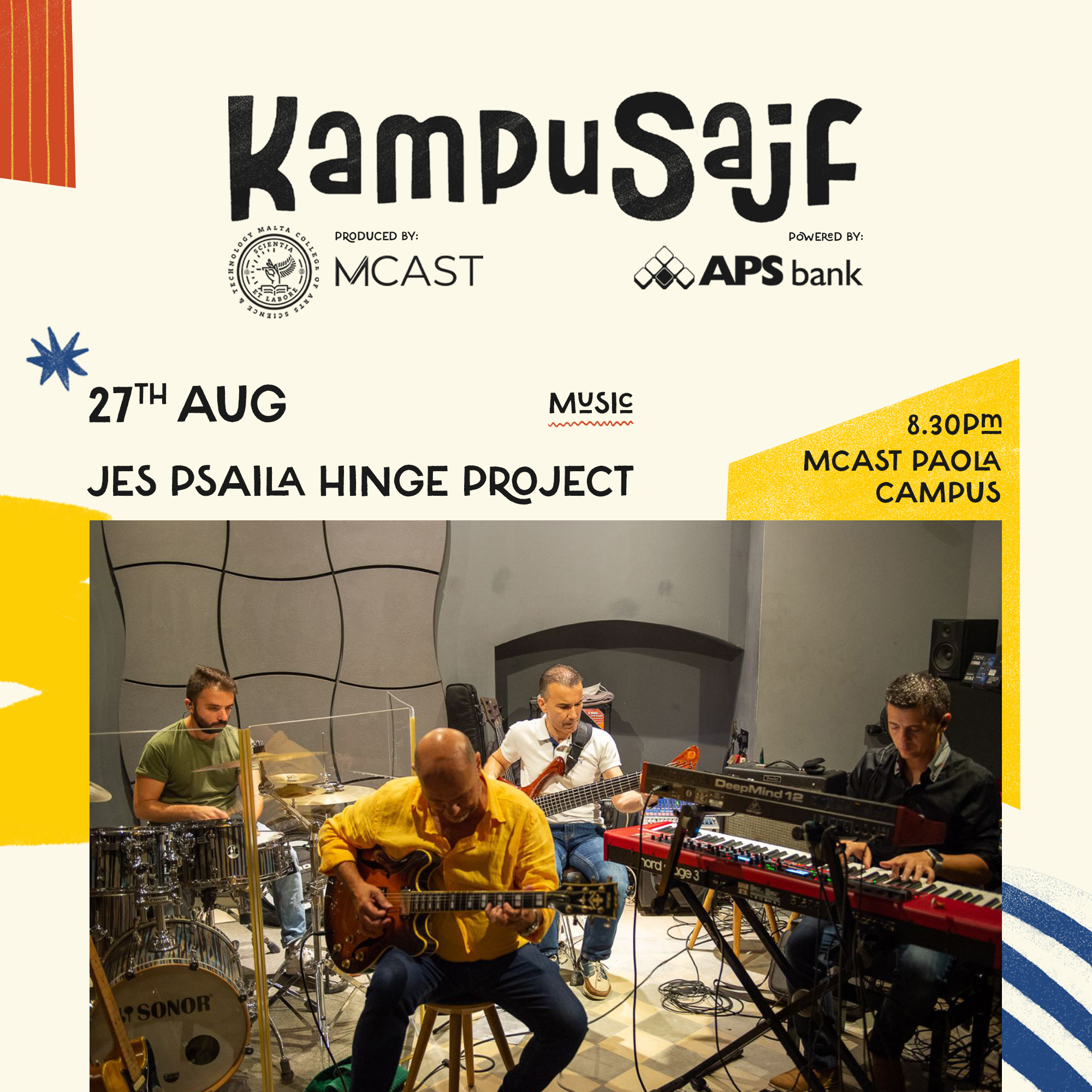 ——————————————————
11.08.2023
APS Bank website – Info about KampuSajf
——————————————————
10.08.2023
26 August line-up announced
Teatru Malta
in collaboration with Moveo Dance Company proudly presents 'Etikett AI' for Kampusajf  a tech-driven improvisational theatre experience.
Etikett is an improvisational dance-theatre project which premiered in 2022. This time, performers will transform AI-generated suggestions into an electrifying and unpredictable dance-theatre show. If you're seeking conformity, look elsewhere. Remember, we don't hold the reins, the machines do, and the show's outcome is as unpredictable as it is unforgettable
Join us for a curious, possibly dystopian, experience where AI dictates the narrative.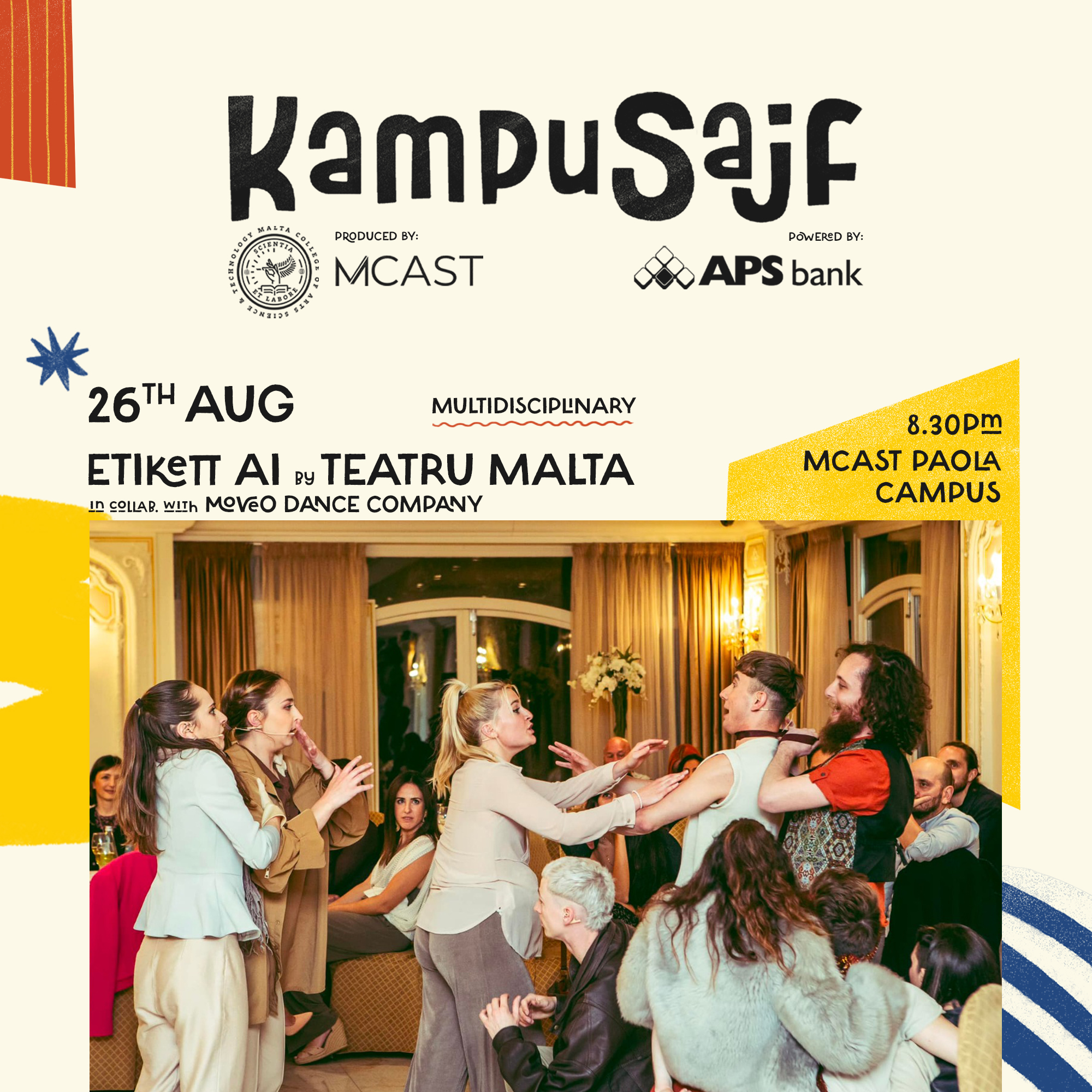 ————————————————————
09.08.2023
Click
here
to book your tickets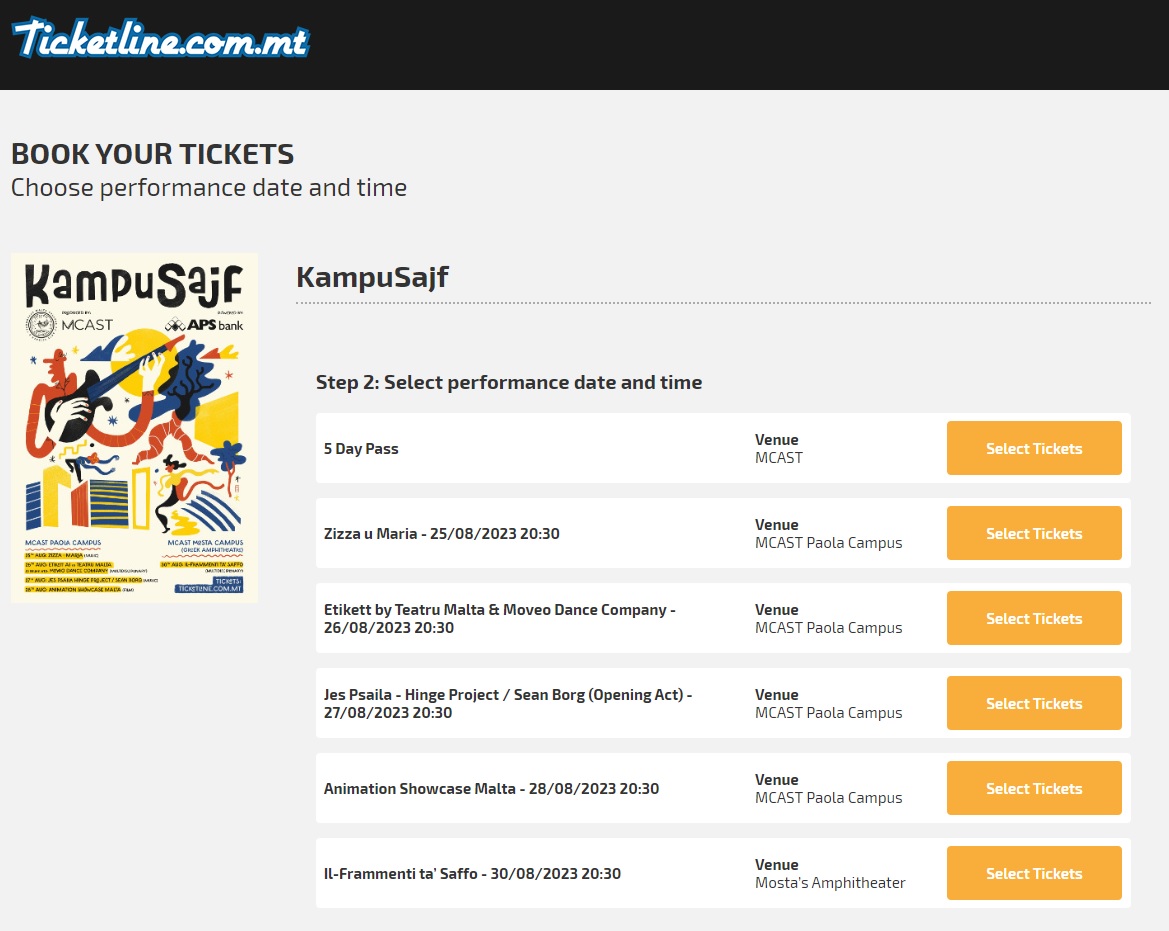 ————————————————————
08.08.2023
25 August line-up announced
A project covering songs from local alternative bands and musicians such as Plato's Dream Machine, Konroll, and Brikkuni to push the idea of Maltese repertoire by Brodu's own frontman Zizza and Maria Sammut.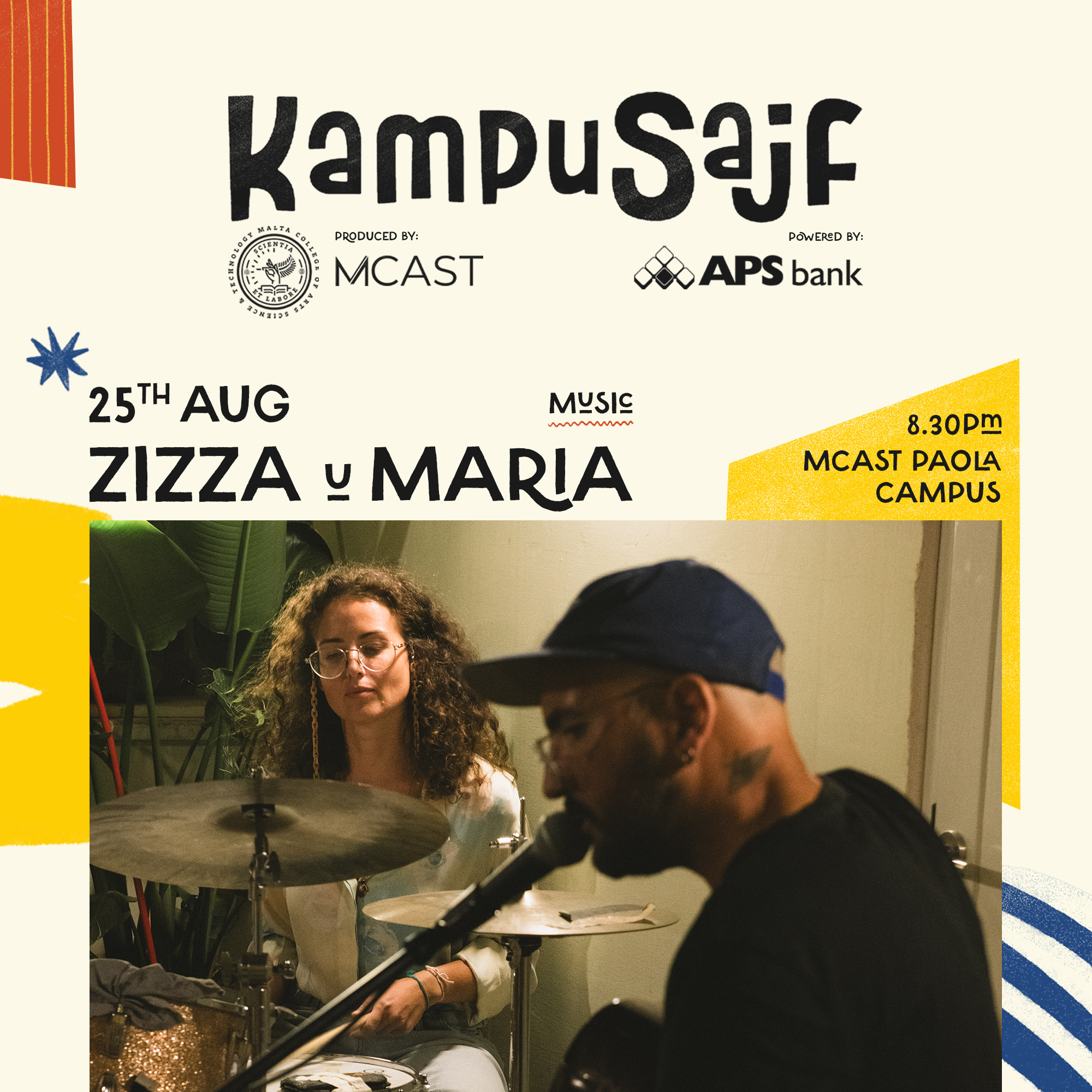 ————————————————————
07.08.2023
Facebook KampuSajf Event Page
————————————————————
05.08.2023
Social Media Coverage – lovinmalta
————————————————————
03.08.2023
Artistic Director Bio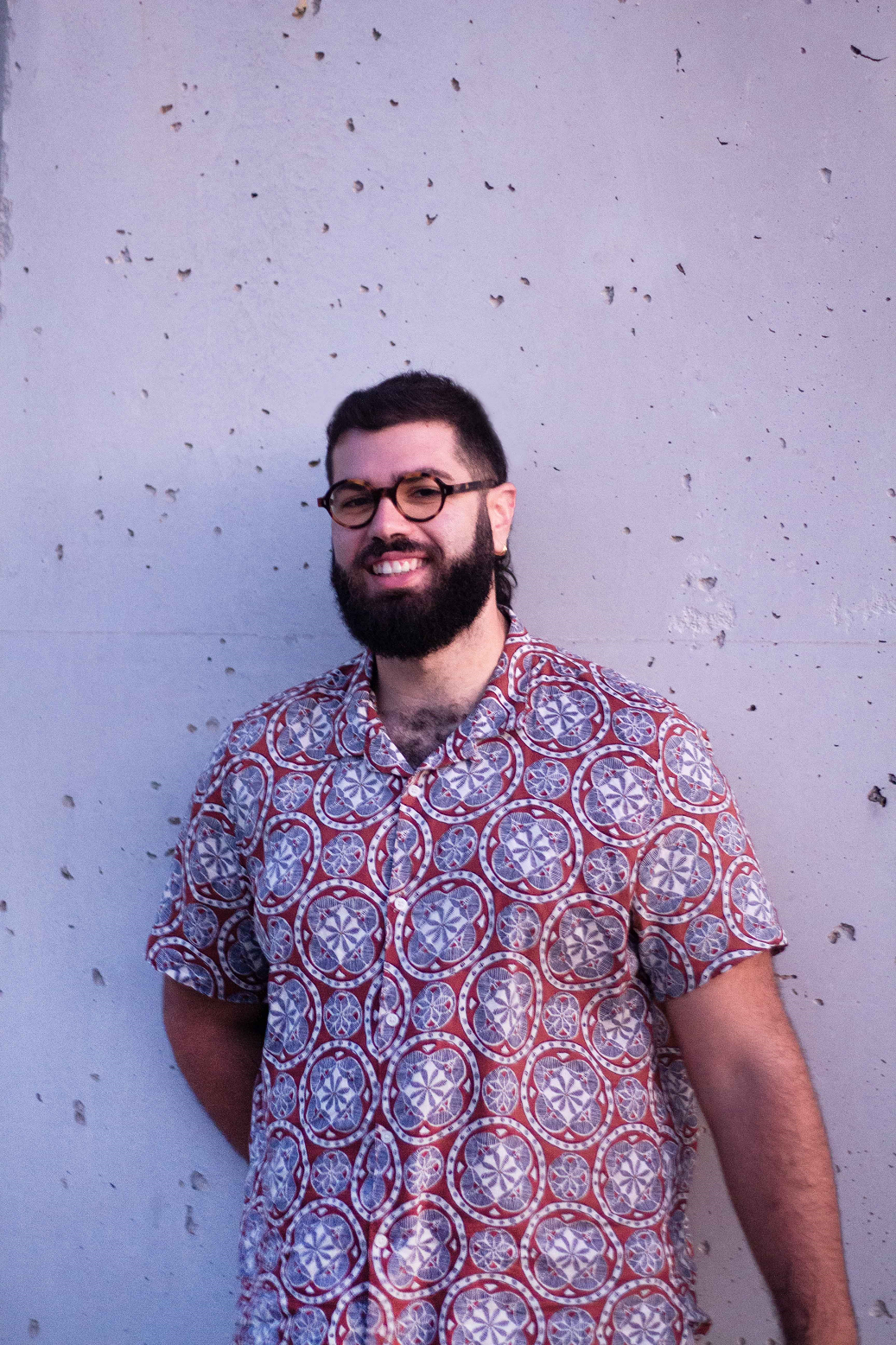 Stjanu Debono
has been actively involved in the cultural industry since the age of 19, earning a Master's degree in Culture Studies Performance and Creativity from the renowned Universidade Catolica Portugesa in Lisbon, and a Bachelor of Art in Theatre Studies (Hons) from the University of Malta. He has worked closely on prestigious festivals with various artistic directors, including Notte Bianca, The Valletta Baroque Festival, the Malta Jazz Festival, the national theatre company Teatru Malta, and the national agency for festivals, Festivals Malta.
Stjanu is a versatile vocalist with a repertoire that spans the American Song Book, Brazilian music, and world music. Additionally, he is a member of Malta's only all-male choir, Cappella Sanctae Catharinae.
In 2020, Stjanu curated an online project at the Żigużajg festival, combining animation and music by arranging lullabies from diverse regions worldwide for a jazz quartet setup. Two years later, in 2022, he participated in EthnoFrance, a multicultural musical exchange where he collaborated with musicians from various parts of the world.
————————————————————
03.08.2023
Media Coverage – MaltaToday
————————————————————
02.08.2023
Media Coverage – Malta Independent
————————————————————
The Festival will be held from 25 until the 28 August at MCAST's Paola Campus and on the 30 August at MCAST's Mosta Campus. This production will serve as a new and enriching experience for College students and staff, especially those studying and working within the creative arena. The Festival is open to the general public, enabling those who attend to familiarise themselves with the College and experience an eclectic programme of events.
Joachim James Calleja, MCAST Principal & CEO, said 'MCAST is delighted to present KampuSajf for the first time on our campuses in Paola and Mosta, thanks to the generous support of APS Bank. We are thrilled to be closely collaborating with the artistic community in Malta and providing them with a platform for their work at MCAST. It is truly exciting to witness our campuses brimming with arts and creativity during the less busy days of our academic calendar.'
Stjanu Debono, KampuSajf Artistic Director said 'this is a multidisciplinary festival that will prioritise indigenous artistic work in Malta and will serve as an alternative platform to different art forms including music, literature, contemporary dance, improvised theatre, and animated film.'
Rachael Blackburn, APS Bank Head of Culture said, 'We're pleased to support MCAST through KampuSajf. This event is set to fill a gap in the summer calendar, presenting an alternative cultural experience for the whole community. At APS Bank, supporting arts and culture is one of our Corporate Social Responsibility pillars. KampuSajf perfectly aligns with our corporate values, showcasing our commitment to fostering creativity and nurturing talent.'
The full programme of events will be announced on MCAST's social media platforms and website in the coming days.