The Malta College of Arts, Science, and Technology (MCAST) and MG2i will participate for the very first time in a space mission in collaboration with the University of Malta and SpaceOMIX, which is the leader of the project.
Maleth 3 will fly to the International Space Station, departing from Cape Canaveral in mid-March onboard the SpaceX CRS27 rocket. MCAST lecturer within the Institute of Engineering and Transport (IET) Dr Ing. Leonardo Barilaro, joined forces with the team of Professor Joseph Borg from the University of Malta and together conducted the integration tests of the experiment at Space Application Services in Brussels, Belgium, before its shipment to SpaceX.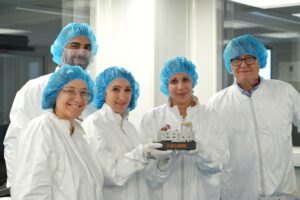 Professor Borg is the Principal Investigator and molecular geneticist that started the Maleth Program with the SpaceOMIX mission. The primary scope of the research mission is to target and study human skin samples in space, complete with the skin microbiome of Diabetic Foot Ulcers from patients undergoing treatment.
Dr Barilaro composed a new space music composition that will fly with the experiment and will be broadcasted to Earth. Besides the high scientific value of the project, this first collaboration for the College will open a window of opportunities for students, boosting education and STEM activities.
This new SpaceX Dragon launch will deliver new science investigations, supplies, and equipment for the international crew. These investigations lead to new technologies, medical treatments, and products that improve life on Earth.
The College currently offers a Level 7 Master of Science in Aerospace Engineering.
Humans have occupied the space station continuously since November 2000. In that time, 263 people and a variety of international and commercial spacecraft visited the orbital outpost. It remains the springboard to NASA's next steps in exploration, including future missions to the Moon under Artemis, and ultimately, human exploration of Mars.