The Malta Food Citizen Lab final gala event took place at Ghammieri farm on the 5th December 2022. The event honourably welcomed H.E Kerem A. Kiratli Ambassador of Turkey to Malta, Mr Brian Vella CEO of Malta Food Agency , Ms Selen Tokcan Secretary General of Sabri Ulker Foundation, Food Trust Ambassadors, the project implementors from MCAST, Sabri Ulker Foundation and Malta Food Agency as well as participants from NGOs and agricultural businesses in Malta.
H.E Kerem A. Kiratli – Ambassador of Turkey to Malta addressed his appreciation to MCAST and Sabri Ulker Foundation who have been carrying out important projects for increasing awareness on food, nutrition and health in Turkey and Malta. Especially, the implementation of this project is very timely and meaningful at a time when the world with a population hitting 8 billion people is facing a critical food and climate crisis and thus when the issues of climate change, food supply and food security are high on the global agenda.
"Nowadays, general public is continuously eager to learn and to obtain information on the food available. Continuously Malta Food Agency invests resources and effort to ensure better service to all stakeholders such as farmers, fishermen, sales agents, hawkers with the aim to keep the final consumer at the heart of our work. Well informed consumers are ought to hold better selection of food. Collaboration on similar projects helps our team to keep their close contact with the consumers, and different stakeholders.", addressed by Mr Brian Vella CEO of Malta Food Agency.
During the 3 months trial of the project in Malta, the Food Trust Ambassador program and the ASK ME Citizen Forum activities were carried out through two livestreaming events with scientists and local authorities addressing live questions from audience on food safety issues and regulations on safe food. A full day face-to-face training was delivered to Food trust ambassadors to provide them with key knowledge on local food safety, supply systems and communication tools to address doubts, clarify fake news and promote food trust. Especially results of a survey on the topic of "Perceptions on pesticide residues in fruits and vegetables" conducted in November this year was reported. According to the survey results, ninety five percent of the participants are aware that fresh food such as fruits and vegetables may contain pesticide residues. Eighty six percent of them know that pesticide residue levels in fresh fruits and vegetables are controlled by law.  However, 57% of the survey participants do not trust that the laws and the inspections are enough to guarantee that pesticide residues in fresh fruits and vegetables are within safe limits, and almost all participants wish to have more information on this subject. For more information of the project report and survey analysis, please click here.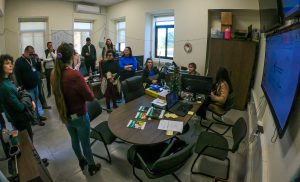 As part of the cultural exchange between Maltese and Turkish cuisines, Turkish chefs from Tava Terrace joined the final gala event to introduce special dishes from Turkey and their recipes.
The Malta Food Citizen Lab is to increase trust in local produce and food safety. This project is co-funded by EIT Food with partners including MCAST (Malta) and Sabri Ulker Foundation (Turkey). In Malta, the project was implemented by MCAST Applied Research & Innovation Centre in collaboration with Malta Food Agency and Ministry for Agriculture, Fisheries and Animal rights.
For more information, please contact: Uyen Vu, via this email address: uyen.vu.thi.phuong@mcast.edu.mt