The Malta College for Arts, Science, and Technology (MCAST) inaugurated new premises and facilities for the fully accredited Centre for Maritime Studies (CMS), which forms part of the Institute of Engineering and Transport (IET). Industry players were also invited to visit the new Centre and meet students.
The CMS offers a wide range of maritime programmes at different qualification levels, supporting both local and international demands in the maritime industry through proven, qualified, experienced lecturers and mentors.
The Minister of Education, Sport, Youth, Research and Innovation​ Clifton Grima, was present for the official opening of the new Centre. The Minister said this was an exciting time for the College, offering state-of-the-art facilities and leading in providing industry-relevant learning opportunities across various sectors, including the maritime industry.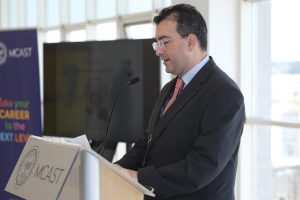 During the inauguration event, MCAST Principal and CEO Professor Joachim James Calleja said, "This Centre offers internationally recognised qualifications​ for students to work on ocean-going vessels and yachts. Marine engineering students are qualified to start careers in shipyards as travelling repair engineers and progressing to the level of surveyors and inspectors. This starting investment of 250 000 Euro is part of our strategy to ensure that our learners have access to hands-on training facilities preparing them for the world of employment."
The new facilities on level four of the Institute of Engineering and Transport building include three new simulators: a Bridge Control, Global Maritime Distress and a Safety System in Radio Communication, and an Electronic Charts Display Information System. The new seamanship workshop is equipped with all necessary s tools and devices, including first aid and emergency wear equipment for emergency exercises. The Centre also has its lifeboat and fast boat.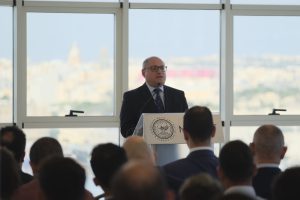 Institute Director Ing. Stephen Sammut spoke about the CMS courses, which include full-time and part-time courses. One of the full-time courses is an introductory course leading to a Diploma in Deck Operations (MQF Level 3) with a study period of one academic year. Successful students may progress to a higher level leading to an Advanced Diploma in Deck Operations (MQF Level 4) and progressively ranking to as Officer In Charge of Navigational Watch.
Concurrently with deck courses, the Maritime Centre also offers Marine Engineering courses. One can start with an Advanced Diploma in Marine engineering, which can lead to a BSc (Hons) in Marine Engineering. Each course comprises three years of study. Workshops are also available for students to carry out practical exercises and include their thesis.
MCAST is building the capacity to deliver three courses related to the superyacht industry, with an Advanced Diploma in Yacht Deck Operations, an Advanced Diploma in Yacht Marine Engineering and an Advanced Diploma in Yacht Interior and Hospitality Operations. These courses will be pegged at MQF level 4 and delivered in both face-to-face and blended learning modes. This project, named ProCrew, aims to create for participants to obtain the qualifications necessary to work in the superyacht industry.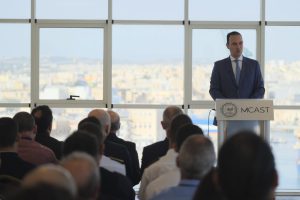 Around 60 full-time students are following deck courses, including Advanced Diploma in Deck Operations/Officer In Charge of Navigational Watch, Chief Mate and Master Mariner. Another 40 are enrolled in full-time courses in marine engineering, including the Advanced Diploma (MQF 4) and BSc (Hons) (MQF 6).
In addition, the CMS offers STCW ancillary short courses and licenses required to operate seacraft in local waters. These include licences for owners and operators of all kinds of boats. Other short courses are intended for port workers and local maritime entities where a significant training level is required.
The Centre for Maritime Studies is committed to supporting and developing careers in navigation, marine engineering, ships management, and exclusive maritime industry positions.