A team of 5 students from MCAST's Institute of Information and Communication Technology (ICT) were selected to compete in an international robotics competition which was held in Geneva, Switzerland between 13th October 2022 and 16th October 2022.
First Global, the main organisers for this event invited 162 countries to participate in this competition. The aim of First Global is to encourage STEM education through the use of robotics; to motivate students from developed, poor and war-torn countries to participate and meet with other students from across the globe, and to raise awareness on current environmental issues.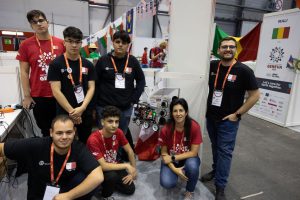 Participating countries received a robot kit composed of different parts together with a game manual. The team received the kit in July and started working on the robot during the summer recess. During the matches, countries were randomly categorised as alliance in a team of three and compete against three others.
The theme for this year's competition was Carbon Capture where robots needed to pick up as much 'carbon' (represented by black balls) and dispose of them through a shooting mechanism through a bin. The game ends with the robot lifting itself up and holding to a horizontal pole. Points were awarded as a team and several matches with different countries were played during the entire competition.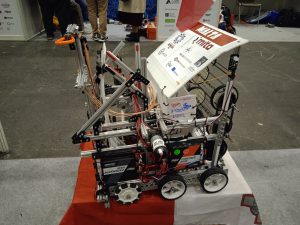 This event was sponsored by MITA, The Farsons Foundation, Malta Enterprise, CCBILL and HSBC to cover the registration fees and other robot expenses. Other costs were kindly sponsored by Erasmus+.
The student team was composed of Emuel Vassallo, Nicholas Borg, Jean Paul Micallef, Daniel Dalli and Carl Lyon. The team was mentored by Ms. Lucienne Micallef and Mr. Thomas Gatt, Senior Lecturers at the Institute of ICT.