Three students following courses at the Malta College for Arts, Science, and Technology (MCAST) were nominated for the 'Apprentice of the Year' award during the Malta Business Awards organised by the Malta Chamber of SMEs.
College students Mirhea Abdilla, Amber Borg, and Chris Saliba were the three shortlisted finalists in the mentioned category.
Ms Mirhea Abdilla, following a Bachelor of Science (Honours) in Environmental Health, was the winner of this category and was awarded for her commitment and attitude to learning during her apprenticeship programme at Maypole. Amber Borg and Chris Saliba were awarded first and second runners up.
The 'Best Apprentice' award seeks to award students who, in the previous scholastic year, successfully completed an apprenticeship programme as part of their studies.
Ms Abdilla said, "I'm proud to have won the award, it was a fantastic evening, and it means a lot that my effort and work have been recognised".
Deputy Principal Stephen Vella, who presented the award, said, "Work-based learning is an essential part of learning at the College. We are delighted that these students were successful finalists in the Apprentice of the Year award. MCAST is proud of them and their lecturers who work hard to help our students achieve their goals".
Director Dr Romina Borg, responsible for apprenticeships and work-based learning, said,
"Apprentices help develop the skills, knowledge and behaviours directly relevant to the world of employment. Work-based learning helps attract and retain talented employees, providing progression opportunities. We receive positive feedback from employers who understand that investing in students is also a great way of improving the diversity of their workforce."
MCAST views apprenticeships as one of the main ingredients which help form industry-relevant and highly skilled graduates. The College is currently working with over 2,000 local business companies
to provide high-quality apprenticeship opportunities.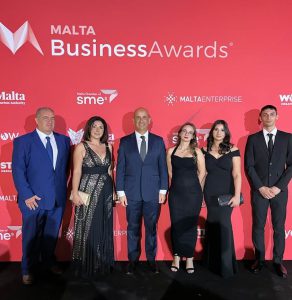 Deputy Principal Ing. Pierre Dalmas, Director Dr Romina Borg, Deputy Principal Mr Stephen Vella, Students Mirhea Abdilla, Amber Borg, & Chris Saliba