Profs Joachim James Calleja
Principal and CEO

Professor James Calleja has been involved in Vocational Education and Training since 2001. Before his appointment as Principal and CEO of the Malta College of Arts, Science and Technology in June 2018, Mr Calleja was Director of the European Centre for the Development of Vocational Training (Cedefop) from 2013 to May 2018. Before joining Cedefop, he served as Permanent Secretary of the Ministry of Education and Employment in his native Malta from 2011 to 2013. Professor Calleja is also the President of the European Forum for Vocational Education and Training (EfVET) a Europe-wide organisation representing VET training providers. Since 2016, he serves as Council Member on the Hong Kong Council for the Accreditation of Vocational and Academic Qualifications (HKCAVAQ).
In 2005 he was entrusted with the setting up of the Malta Qualifications Council where he served as Chief Executive up to December 2010. He is an Associate Professor and served as Council member of the University of Malta.
Prof Calleja is a graduate of the Universities of Malta, Padua (Italy) and Bradford (UK) from where he obtained his PhD in International Relations. Since 2001, he has been an accredited commercial mediator with CEDR (London).
In 2001, he was appointed Administrative Director of the Malta College of Arts, Science and Technology and in 2004 he moved to the European Training Foundation in Turin. He started his working life at the Foundation for International Studies at the University of Malta (1986-1995) followed by other upward career moves to the United Nations International Institute on Ageing (1995-1998) and to the Ministry of Economic Services Malta (1998-2001). He represented Malta on the European Qualifications Framework Advisory Group, on CEDEFOP's Governing Board and on the Bologna Follow-Up Group.
A prolific writer, Prof Calleja has published books and articles and has edited various publications. He is the co-author of the Malta Referencing Report of the Malta Qualifications Framework to the EQF and EHEA. He has participated in international events in many countries in Europe, North America, South-East Asia, Australia, Canada, Africa, South Africa, the Middle East, and in the Mediterranean region.
 +356 23987303

 james.calleja@mcast.edu.mt
Anthony Saliba
Director and Data Protection Officer
Born on 20 June 1958, Anthony Saliba graduated with honours in Philosophy and
Sacred Theology (1982) from the University of Malta and the Faculty of Theology.
After completing his Advanced Diploma in Education at the University of London
and his Teacher Training programme (1991), he graduated with a Master's in
Educational Management at the University of Aberdeen in 2005. Early this year,
he completed a course in Biblical Linguistics with the Hebrew University of
Jerusalem. At the same College.
Before joining MCAST on 16 July 2007, Anthony had his first teaching experience
at Stella Maris College, Gzira, teaching Italian and Religion to the higher secondary
classes while covering the role of Master of Discipline. He then joined the former
Upper Lyceum Gan Franġisk Abela as lecturer and Head of the Department of
Philosophy. Following his appointment at St Edward's College as a Sixth Form
teacher of Philosophy and Systems of Knowledge, Anthony was appointed first as
Head of the Middle School and then Headmaster from 2002 until 2007. Since
2007, Anthony was appointed Deputy Principal with various responsibilities. In
June 2008, he set up the Grievance Office at MCAST. On reaching his retirement
age on 20 June 2021, Anthony had a reassignment of duties, and he is now a
Director in the Office of the Principal.
He is married to Doris, and they have one son. He has various social commitments
at his hometown, Birkirkara, including the parish choir and one of the town's
leading band clubs. Above all, Anthony enjoys classical music, football, travelling,
writing poems and reading.
 +356 23987506
  anthony.saliba@mcast.edu.mt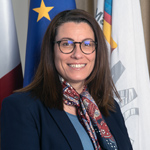 Ms Edel Cassar
Director MCAST Strategy Implementation Office
Ms Edel Cassar has been entrusted to run the Strategy Implementation Office. Ms Cassar is an educator by profession with an educational background in psychology, sociology, human resources and training. Her work experience started off as a teacher and proceeded towards specialisation in EU projects, in particular funding coordination in the public sector. Ms Cassar occupied the position of Chief Executive Officer within the Commission for Further and Higher Education, the entity responsible for recognition, validation and accreditation of further and higher education in Malta. Ms Cassar also headed the National Skills Council and the Scholarships Unit within the Ministry for Education and Employment. Ms Cassar is also a visiting lecturer at the University of Malta and an assessor on the Erasmus + programme.
 edel.cassar@mcast.edu.mt

Ms Francesca Attard
(Deputy Director – Policy Analyst)
In May 2019, Francesca Attard was appointed Deputy Director – Policy Analysis becoming part of the MCAST Principal's office team. Francesca is a graduate of the University of Malta, acquiring a Bachelor's Degree in Management in 2006 and consequently a Master of Arts in European Studies in 2013. She continued her professional development by attending other specialised courses in leadership and management, communication skills and speech writing.
Her career in policy commenced at the Ministry of Education and Employment, as a Research Manager in EU and International areas related to Education, Employment, Youth and Sport. Before that, she gained work experience in the private sector in areas related to media, tourism, EU funding and also the pharmaceutical industry.
She also has a keen interest in photography. Her photography features people from all walks of life. Throughout the years, she has specialised in Maternity and Newborn Photography, an artistic niche which is very dear to her.
 francesca.attard@mcast.edu.mt
VACANT
Deputy Director – Legal Affairs