Students following 'Masonry Heritage Skills' and 'Stone Heritage, Trowel and Tile laying' courses at the College carried out repair works at MCAST's Institute of Creative Arts in Mosta.
Lecturers Alex Caruana and Mario Schembri from the building and construction department within the Institute of Engineering and Transport mentored and supervised the students.
Students following the 'Stone Heritage, Trowel and Tile laying' course expertly restored the low-level parapet wall found along the walkways within the Institute gardens. During this undertaking, they learnt how to press the mortar in between the stone courses and clean the superfluous mortar from the stone without causing any damage. Pointing of the wall was done with a Hydraulic Lime mix.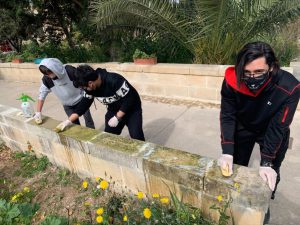 Lecturers also helped students familiarize themselves with the biological growth that occurs on Maltese stone when this is left exposed to the natural elements. During the cleaning process for removing this biological growth from the stones, suitable brushes and clean water were used.
The end result gave the parapet walls a clean finish which improved the overall look of the gardens, which can now be better appreciated by the students and personnel who frequent the Institute.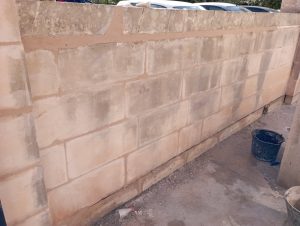 Students following the Diploma in Masonry Heritage skills, deconstructed and reconstructed part of the boundary wall which had suffered vehicular damage. Students started by numbering the stones a process which enhances their knowledge in documenting historic walls. They then cleaned the stones from any mortar, placed the same stones, and carried out the required pointing.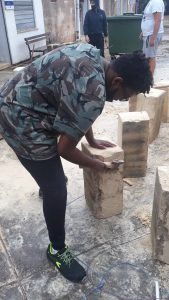 Moreover, the students restored the two main stone statues found in the Institute's garden. Each student had to undertake meticulous work to clean the statues from vegetation growth and other physical damage that the statues had suffered over the years. The results obtained gave a new life to the statues and also enhanced the grounds of the Institute.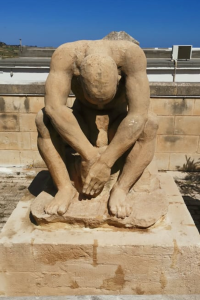 During these work exercises students learnt how to work as a team and engaged in activities which helped them absorb a fountain of information and knowledge which will come in handy in their future work within the industry.