The summer school was organised in Malta from 26 July to 6 August 2021, hosted by MCAST and AquaBioTech, focusing on climate change challenges in the (marine) environment in and around Malta.
The EIT Climate-KIC 'Journey' is a Europe-wide summer school programme for master students and young professionals who want to create an impact to tackle global climate change. The summer school included inspiring talks and lectures by local experts, such as Prof Alan Deidun, Dr. Stefano Moncada and Juan Jose Bonello, as well as by representatives of NGOs, including Birdlife Malta, Sharklab, Fishfortomorrow and Żibel. The 'virtual' dive experience delivered by Prof Joseph Borg was a highlight, taking students on an underwater tour of the Ċirkewwa marine park managed by Nature Trust Malta.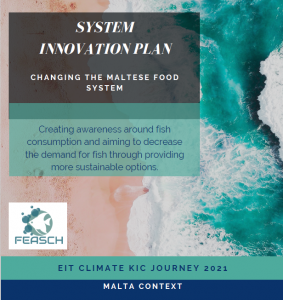 Two local documentaries were shown, 'Kannizzati Fishing' and 'The Giant Deep Reds', during a public online screening which featured a panel discussion on sustainable fisheries with experts in the sector, including film maker Chris Micallef, Dr. Alicia Bugeja Said, Fisheries Advisor at MAFA and Dr. Alexia Massa-Gallucci, Senior Scientific Consultant at AquaBioTech Group.
Working in interdisciplinary teams, students came up with inspiring and innovative solutions to Malta's climate challenges in the marine environment in their 'System Innovation Plans':
Addressing the issue of 'ghost gear' (abandoned fishing gear damaging the marine environment and threatening fauna) by proposing alternative solutions to nylon ropes and limestone blocks used in fish aggregating devices (FADs) for Lampuki fishing in Malta.
Promoting plant-based diets as part of raising awareness around fish consumption and its environmental impacts, by promoting a shift to plant-based seafood options, such as algae, with a reduced impact on the natural environment and animal welfare.
Developing a competition to bring together the worlds of design and architecture and renewable energy – Design Energy Malta – to foster creativity, innovation and develop solutions that will allow Malta to achieve its renewable energy targets as well as create extra revenue sources for the tourism industry.
Exploring nature-based solutions to green Malta's urban area and combat the Urban Heat Island effect. Proposed interventions include the creation of green covering structures for parking areas, made out of wood from renewable sources, using bio-filtered grey water and creeping plants suitable for the local environment.
For further information about the summer school and the System Innovation Plans developed by the participants, get in touch with the Programme Manager, Suzanne Maas: suzanne.maas@mcast.edu.mt. To stay updated about the activities of EIT Climate-KIC, represented locally by the Malta College of Arts, Science and Technology (MCAST) and AquaBioTech Group, follow the EIT Climate-KIC Malta Hub Facebook page.
EIT Climate-KIC is the EU's climate innovation initiative, working to accelerate the transition to a zero-carbon and resilient world by enabling systems transformation. It is supported by the EIT, a body of the European Union. The 'Journey' is one of the Strategic Programmes of EIT Climate-KIC.