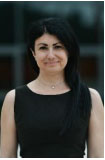 Lorna Marie Bonnici West
BPharm (Hons.) MSc (Clin Pharm) PhD
Director for Research and Innovation
Dr Lorna Bonnici West graduated in Pharmacy from the University of Malta in 2000. She read for a Master of Science degree in Clinical Pharmacy at the Robert Gordon University, Scotland, graduating in 2006, and was awarded a scholarship by the Malta Government Scholarship Scheme to read for a PhD at the Robert Gordon University, Scotland, graduating in 2015. In 2016, she was awarded a post-doctoral grant under the Reach-High Scholars Programme Scheme, part-financed by the European Union, Operational ProgrammeII – Cohesion Policy 2014 – 2020 'Investing in human capital to create more opportunities and promote the well-being of society' – European Social Fund. Her post-doctoral research programme was conducted with the Medicines Use Research Group at the Department of Clinical Pharmacology and Therapeutics, University of Malta.
Lorna's PhD and, subsequently, post-doctoral research applied mixed methods to investigate aspects of medication wastage in Malta. The research, which was composed of a series of studies, aimed to determine behaviour and practices in relation to medication wastage. It also aimed to identify medication wastage minimisation strategies, and the effects of quality improvement measures in relation to enhanced value and wastage minimisation in pharmacy processes.
Dr Bonnici West holds a post of Visiting Senior Lecturer with the Department of Clinical Pharmacology and Therapeutics, University of Malta. She also served on a number of committees and was the founder of the Malta Association of Hospital Pharmacists (MAHP) in 2013, and has collaborated with individuals and groups from various countries and published in diverse international peer-reviewed scientific journals. Lorna also presented at several national and international conferences.
Lorna also held various professional roles. She worked as a clinical pharmacist at Mater Dei Hospital within the respiratory field until June 2013, after which she was appointed Principal Pharmacist at Sir Paul Boffa Hospital, where she led the oncology and dermatology pharmacy services. In 2015, following the migration from Sir Paul Boffa Hospital to Sir Anthony Mamo Oncology Centre, she held the role of Principal Pharmacist and was in charge of the aseptic reconstitution unit. In February 2019, she was the Principal Pharmacist responsible to establish the oncology ward pharmacy services at Mater Dei Hospital, Sir Anthony Mamo Oncology Centre. Since January 2020 she joined the Malta College of Arts, Science and Technology as a Senior Research Officer supporting the Institute of Applied Sciences
 +356 2398 7176
lorna.bonnici.west@mcast.edu.mt
Dr Judita Tomaskinova
Deputy Director Research and Innovation
Her Associate Professor thesis was in Applied and Landscape Ecology (at Mendel University in Brno, Czechia), focusing on integrated management and cultural ecosystem services in selected protected areas in the Maltese Islands. Her Ph.D. dissertation was in environmental management, focusing on the assessment of integrated protected area management and environmental education, and was written in collaboration with Dr. Sean Prendergast (Peak District National Park, UK). As backup, she has more than 25 years' experience in the field of education, research management and project management. Judita worked at the Slovak Museum of Nature Protection and Speleology for over fifteen years, and subsequently held a senior academic position at Matej Bel University in the Slovak Republic for over ten years. She worked as a Senior Researcher for the ReNature project within the MCAST Institute of Applied Sciences, and as a Research Project Manager within the Research Support Services Directorate at the University of Malta. Her areas of research interest are broadly focused on the management of protected areas around Europe; ecosystem services; soil respiration in the context of climate change; phytoremediation; life-cycle assessment (LCA); environmental education, and education for sustainable development.
 +356 2398 7176
judita.tomaskinova@mcast.edu.mt