Institute of Applied Sciences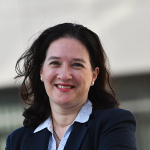 Ms Paula Grech Bonnici
Director 
Ms Paula Grech Bonnici holds a Bachelor of Science degree in Biology and Chemistry and a Master of Science degree in Biology, both from the University of Malta. She had first started her career as a scientific officer at the Maltese Forensic Science Laboratory and later moved to the Water Services Corporation for a lengthy career of twenty-two years. She joined the WSC as a laboratory scientist and gradually rose up the ranks to the position of an executive director. Her experience extends to water and wastewater quality analytical expertise; quality management systems, including ISO9001 and ISO14001; ISO17025 laboratory accreditation; management of the Institute of Water Technology; design and development of courses; training and lecturing at various institutions and an active participation in various EU funding projects ranging from research to major structural projects. As part of her previous remit she also set up the Commercialisation and Innovation arm at the WSC.  She was also responsible for the achievement of the ISO17025 accreditation of the first laboratory in Malta. Over the years, Ms. Grech Bonnici formed part of various government boards including the Pesticide Control Board, the Trade Testing Board for Laboratory Technologists, the Environment and Resources Authority Board and the Malta Resources Authority Board.  She has also frequently participated in various European policy and federation meetings and also many workshops.
 +356 23987369
 paula.grech.bonnici@mcast.edu.mt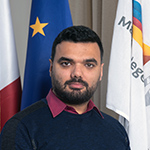 Mr Malcolm. B. Borg
Deputy Director
Mr Malcolm Borg graduated with a B.Sc. (Hons.) from the University of Malta in 2009, a PGC in Sustainable Agriculture in 2016 and an M.A. (Agribusiness Management) in 2017. He attended various CPD courses in Sensory Perception, Postharvest Management, Floristry, Vegetable Grafting, Precision Agriculture, Greenhouse Production, and Olive Oil Tasting amongst others. Mr Borg joined MCAST as a full-time lecturer in January 2011 and became deputy director for the Centre of Agriculture, Aquatics & Animal Sciences in 2015. He is the creator and coordinator of FOWARIM- a Horizon 2020 project that sought to increase the research capacity of MCAST in the use of water in agriculture. He is also chairperson and external verifier for agribusiness vocational units being delivered in secondary schools.  Malcolm Borg is the internal auditor of the GlobalG.A.P (international) certification for potatoes cultivated in Malta for eventual export
Founder and coordinator of Ghaqda Bdiewa Attivi– an organization for farmers that lobbies for and represent farmers in matters related to policy, market, EU funding, etc. He used to be the Chairman of the Fish Husbandry Trade Testing Board till 2015, he coordinates courses for farmers for the Directorate of Agriculture till 2015, and is co-author of various scientific papers related to water use in agriculture. His interests include reading, lobbying, gastronomy, food production and processing.
 +356 23987340
 malcolm.b.borg@mcast.edu.mt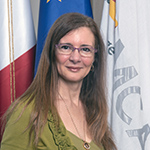 Ms Doreen Micallef
Deputy Director 
Ms Doreen Micallef obtained a Diploma in Medical Laboratory Science in 1986 and a Bachelor of Science in 1992. She became a member of the Institute of Biomedical Science UK in 1996 and obtained a post-graduate certificate in Education in 1999. She graduated with a Master of Science Weight Management in 2017 and a post-graduate certificate in research in 2018. Ms. Micallef started off her career as a medical laboratory technician and Senior Medical Laboratory Technologist, from 1986 to 1993. She was then a laboratory manager at a private hospital from 1993 to 1994 and joined the University of Malta in 1992 where she lectured until 2005. She was also a teacher of science, biology and chemistry in a local church school from 1999 to 2002 and a part-time lecturer at MCAST from 2006 to 2012. Ms Micallef became a full-time lecturer at the MCAST Institute for Applied Science in 2012, a programme coordinator, in 2013, and has been occupying the post of Deputy Director at the Institute for Applied Sciences since 2015. She served as Vice President of the National Council of Women, Malta, from 2004 to 2007, and as President of the National Council of Women from 2007 to 2009. She also was Vice President of the European Centre for the International Council of Women from 2007 to 2009, and Vice President of the Aretusa Organisation from 2010 to 2012.
 +356 23987825
 doreen.micallef@mcast.edu.mt